Today on Drinking With Wolter, we will be reviewing the Cheap-assed Margarita. As with all of Wolter's Potent Potables, this will be made with inexpensive liquors from around the house.
First, we need a reviewer. Some schlub who can tell us exactly what he likes or dislikes about a Cheap-ass drink. But who fits that bill?
Ah, yes. You'll do nicely, Wolter.
Now what can we use to make this drink?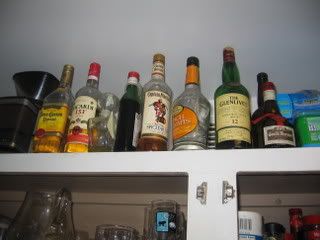 Hmm...yes.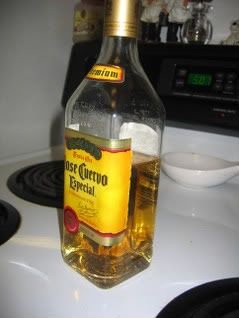 A 2/3 full bottle of Jose Cuervo Gold. The official Only Tequila Sold Downstairs From Wolter's Apartment.
And a supporting cast? No triple sec, huh. Time to improvise.
GrandMa should be an adequate replacement for...EMPTY!?!?!?!
Okay, let's just cheap this all the way...Peach Schnapps it is. Now, we set up the blender. This particular model is made by Oster. But any brand will work.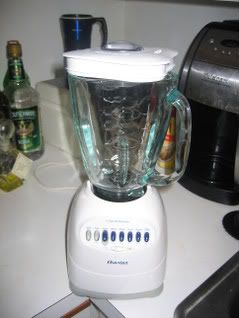 Okay, Wolter. Gently open the frozen mix (Store Brand Strawberry Daiquiri, for those playing along at home). Gently...Gently...
GOD. DAMN. IT.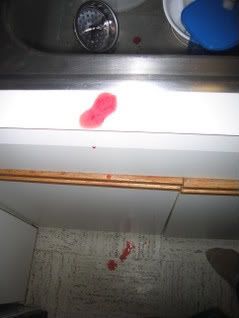 Okay. Small cleanup break. Let us add the tequila, using the time-honored "rinse out the mix container with booze" method.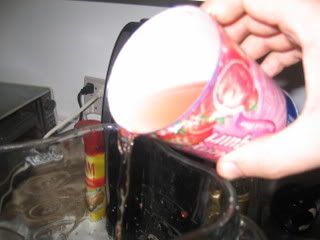 Now, add the schnapps.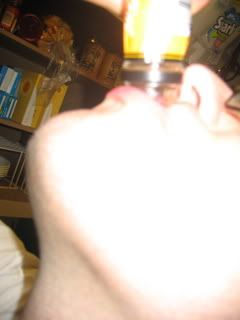 Hey! Save some for the blender, Wolter!
Now to add some ice. Let's check the depressingly empty freezer.
There it is! Right next to the bag of frozen "Tilapa."
Just top that puppy off. Very nice. And take a break to wipe the camera off, Sticky Fingers!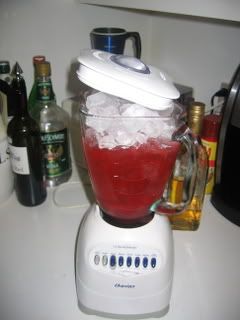 Let's rock. Here's an exciting Adam West angle of the blender being powered up: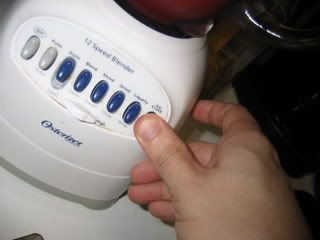 And hopefully deliciousness will ensue...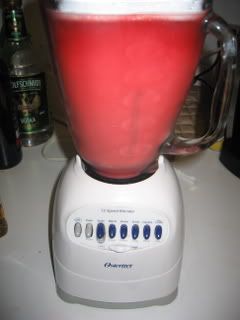 Now didn't I have Margarita Glasses? Hmm...maybe not.
What to do? What to do?
Well, Dr. Scotch isn't in his office...
Excellent: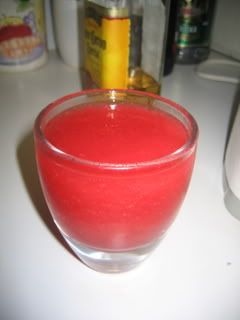 Now, let's see about the actual taste of this concoction.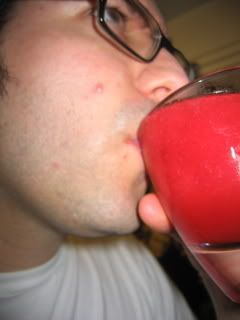 Not really tasting the peach.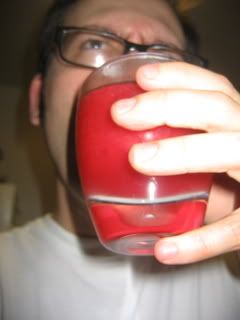 Swish it around, Wolter, paying careful attention to the nose.
Still nothing, huh? What
do
you taste?
Strawberries with a hint of tequila? And, are you legally blind, now?
I take that as a no.
I hereby declare this tasting a rousing success!
And, for the record, I am currently cooking the "Tilapa."